Due to the extended "Stay at Home" order, we have switched to virtual meetings, via Zoom, for the duration. These online meetings are temporary until further notice. So, with that in mind here is the Zoom information for all three meetings:
Tuesday
6:00 pm to 7:00 pm (PST)
To join the Zoom Meeting
send an email request to tfcav81@gmail.com
Friday BDA
12:00 pm to 1:00 pm (PST)
Meeting ID# 497-680-762
https://zoom.us/j/497680762
Saturday
Solvency, Serenity, and Hope Meeting of DA
Saturday from 11 am to 12 pm (PST)
Zoom Meeting (via Zoom app on laptop/desktop, smartphone or tablet) Meeting #: 794 0993 0456
Password: Please contact Eva at 718-578-5258.
Telephone-only connection for Zoom meeting:
Telephone #: 1-720-707-2699
Meeting #: 794 0993 0456
Telephone Numeric Password: 920014
---
7th Tradition: Debtors Anonymous is self-supporting through member contributions. Donations made to the Debtors Anonymous Intergroup of Sacramento (D.A.I.S.) support the Sacramento area DA website, liability insurance that covers all local DA groups and events, a post office box available for all Sacramento DA groups, contributions to the DA General Service Office, and funds to send an Intergroup Service Representative to the annual DA World Service Conference. You can make a contribution via Venmo by sending to @da-intergroup, or mail a check made out to D.A.I.S. to P.O. Box 19146, Sacramento CA 95819.
---
ANNOUNCEMENT!
---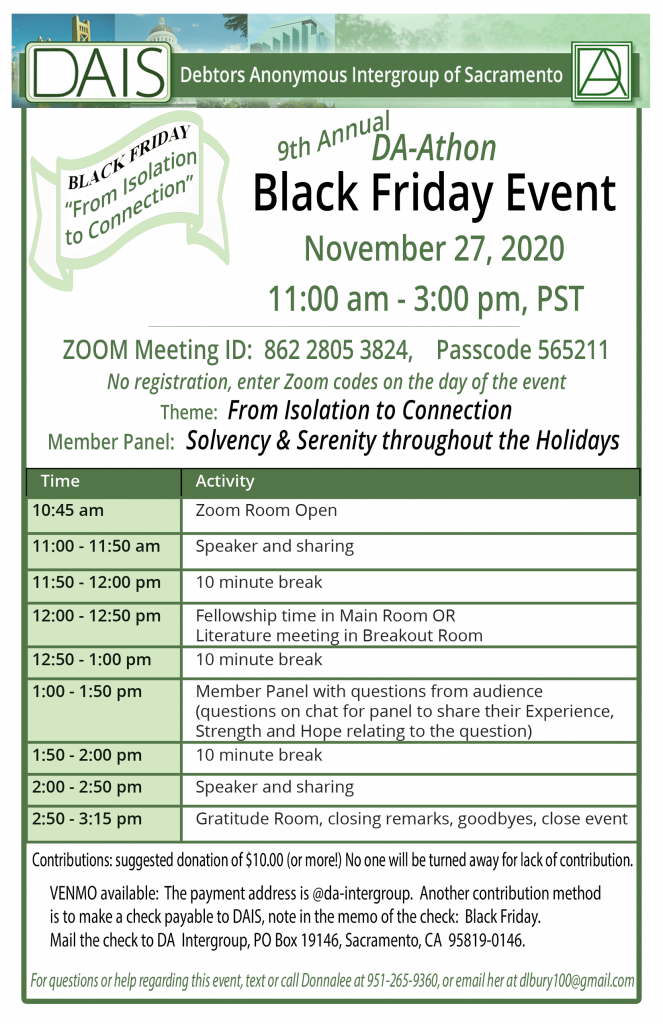 ZOOM Meeting ID: 862 2805 3824, Passcode 565211
To download a printable 1/2 sheet flier, click here. (Give one to a friend too)
---
Our Primary purpose is to stop debting one day
at a time and to help other compulsive debtors
to stop incurring unsecured debt
– Debtors Anonymous
---
Welcome to DA
Welcome! If you've been living with endless financial problems ––never enough money, creditors hounding you, missing out on 'the good life'––we understand. Before we arrived at Debtors Anonymous, we didn't know how to solve those issues either. Now, in Debtors Anonymous, we find the 'missing answers' to financial problems and we learn how to live healthier, happier, more prosperous lives. We welcome everyone hurting from debting who wants to stop the pain of not understanding how to resolve problematic financial issues.
In DA you can find a new way of living that offers real solutions to compulsive debting and spending, living in deprivation, and under earning.
---
Debtors Anonymous Video
---
******